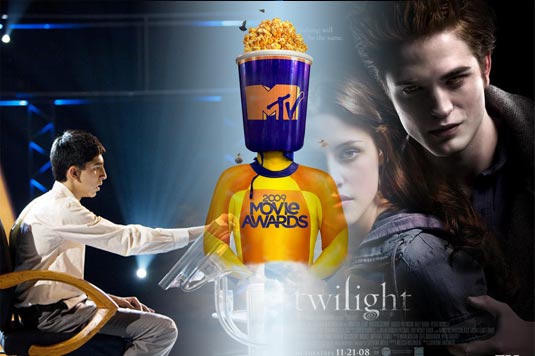 'Twilight' has started to show its domination at this year's MTV Movie Awards by nabbing three prizes, Breakthrough Male Performance for Robert Pattinson, Best Fight and Best Kiss.
2009 MTV Movie Awards is on and it is unraveled that "Twilight" has been announced among the early winners. On the ceremony held at the Gibson Amphitheatre in Universal City, California, the popular vampire drama has taken away three of the golden popcorn statuettes for Breakthrough Male Performance, Best Fight and Best Kiss.
MTV MOVIE AWARDS CATEGORY
2009 MTV MOVIE AWARDS WINNERS
2009 BEST MOVIE -Twilight-
2009 BEST MALE PERFORMANCE -Zac Efron-
2009 BEST FEMALE PERFORMANCE -Kristen Stewart-

2009 BEST MALE BREAKTHROUGH PERFORMANCE -Robert Pattinson-
2009 BEST FEMALE BREAKTHROUGH PERFORMANCE -Ashley Tisdale-
2009 BEST COMEDIC PERFORMANCE -Jim Carrey-
2009 BEST KISS -Kristen Stewart and Robert Pattinson -
2009 BEST VILLAIN -Heath Ledger-
2009 BEST FIGHT -Vampire Showdown: Robert Pattinson vs. Cam Gigandet -
2009 BEST WTF MOMENT -Amy Poehler: Peeing In The Sink -
2009 BEST SONG FROM A MOVIE -"The Climb" by Miley Cyrus -
2009 GENERATION AWARD -Ben Stiller-

The Breakthrough Male Performance was nabbed by its leading man Robert Pattinson, who overshadowed fellow nominees, Taylor Lautner, Ben Barnes, Dev Patel and Bobb'e J. Thompson. Meanwhile, for the Best Fight, the award went to the battle between Pattinson and his co-star Cam Gigandet.

As for the Best Kiss prize, Pattinson shared it with co-star Kristen Stewart. They beat out Angelina Jolie and James McAvoy of "Wanted (2008)", Freida Pinto and Dev Patel of "Slumdog Millionaire", James Franco and Sean Penn of "Milk" and Vanessa Hudgens and Zac Efron of "High School Musical 3: Senior Year".

Other announced winners so far include Ashley Tisdale, Amy Poehler and Miley Cyrus. Ashley brought home the Breakthrough Female Performance for her role as Sharpay Evans in "High School Musical 3", while Poehler scored Best WTF moment for her "Peeing in the Sink" scene in "Baby Mama" and Cyrus won Best Song title for her "The Climb" track in "Hannah Montana: The Movie".

The 2009 MTV Movie Awards is aired live by MTV from the Gibson Amphitheatre in Universal City, California starting at 9 P.M. ET on Sunday, May 31. "Saturday Night Live" star Andy Samberg serves as the host with musical performances from Kings of Leon and Eminem.

source : www.aceshowbiz.com

Read More...