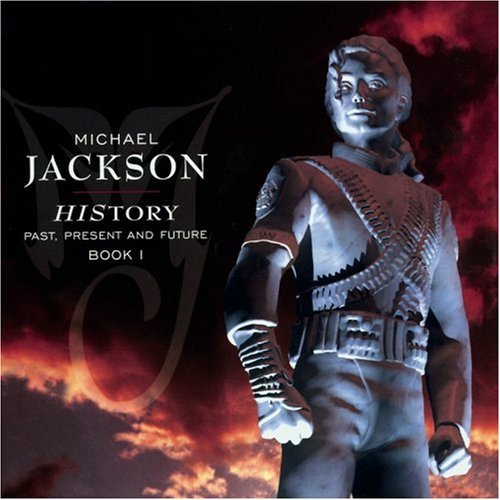 HIStory: Past, Present and Future, Book I (usually shortened to HIStory) is a double album by Michael Jackson, released on June 20, 1995, and is Jackson's ninth album. The first disc, named "HIStory Begins" consists of a selection of Jackson's greatest hits from the singer's past fifteen years, while the second, named "HIStory Continues" features new songs, with the exception of "Come Together", which was recorded in 1987.
HIStory has been cited as one of the best-selling multiple disc album ever released, with worldwide sales of 20 million (40 million in terms of units). It is the top grossing album of Jackson's career behind Thriller. The album won one Grammy for Best Music Video — Short Form for "Scream." It is Jackson's first album to have contained profanity.
Track Listing :
# Title Writer(s) Featured artist Length
1. "Billie Jean" 4:54
2. "The Way You Make Me Feel" 4:57
3. "Black or White" Jackson; Bill Bottrell 4:15
4. "Rock with You" Rod Temperton 3:40
5. "She's out of My Life" Tom Bahler 3:38
6. "Bad" 4:07
7. "I Just Can't Stop Loving You" Siedah Garrett 4:12
8. "Man in the Mirror" Glen Ballard; Siedah Garrett 5:19
9. "Thriller" Temperton 5:57
10. "Beat It" 4:18
11. "The Girl is Mine" Paul McCartney 3:41
12. "Remember the Time" Teddy Riley; Jackson; Bernard Belle 4:00
13. "Don't Stop 'til You Get Enough" 6:02
14. "Wanna Be Startin' Somethin'" 6:02
15. "Heal the World" 6:24



Download Links


http://rapidshare.com/files/263870367/Michael.Jackson-History.1995_www.mp3-bobo.blogspot.com_.zip

No password

Please comment if links are broken..Happy Download

Read More...