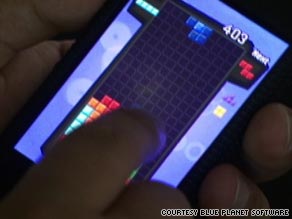 It's amazing how a huge global phenomenon can begin. In 1984, Russian mathematician Alexey Pajitnov was playing with one of his favorite puzzles when he had an inspiration: How about creating a computer version?
Pajitnov wrote the program in his spare time, simplifying the idea to make it easier for those of us who aren't math geniuses.

He used shapes made of four squares -- hence "Tetris," which comes from the Greek word for four, "Tetra."

In the game, players must position and stack blocky shapes to fill a grid without leaving spaces in between. Successfully completed sections disappear. The more sections the player completes without reaching the top, the higher the score. The faster players accomplish this, the higher their score. iReport: 25 years of Tetris

Steadily, the game worked its way around the world. Millions of people found themselves glued to their computers and game players -- hearts racing and screaming in frustration -- all over getting a simple horizontal line of digital squares to disappear.

"I would just play it for hours and hours," said iReporter Joel Vetsch of New Haven, Connecticut, who got addicted to Tetris on a Game Boy when he was 10. "I'm 29 now, and I still love it." See Vetsch's iReport here

Vetsch became so obsessed with Tetris that the game even showed up in his dreams.

"I'd go to sleep and in my head I'd see blocks. . .going into each other," he told CNN. "It was weird."

More than 125 million Tetris products have been sold, and Guinness World Records' 2009 Gamers' Edition book ranked Tetris No. 2 on its list of the top 50 console games of all time, behind Super Mario Kart.

Twenty-five years to the month after Tetris was born, CNN spoke with Pajitnov and Henk Rogers, CEO of Blue Planet Software, the company that manages the exclusive licensing rights to the game.

source : edition.cnn.com

Read More...