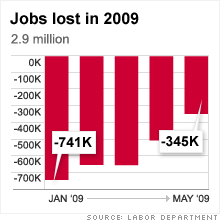 (NEW YORK) -- Job losses slowed dramatically in May, according to the latest government reading on the battered labor market, even as the unemployment rate rose to a 26-year high. But some experts cautioned that the job market remains weak.
Employers cut 345,000 jobs from their payrolls in the month, down from the revised decline of 504,000 jobs in April.
This was the fewest jobs lost in a month since last September, when the bankruptcy of Lehman Brothers caused a crisis in U.S. financial markets and choked off credit for many businesses. Economists surveyed by Briefing.com had forecast a loss of 520,000 jobs in May.

There were still widespread job losses, as most sectors of the economy, including manufacturing, construction, retail, and business and professional services posted declines in jobs.

But there were also some signs of growth, notably in education and health services, as well as the leisure and hospitality sector. Nearly one third of industries added jobs during the month, the highest level of gains since last October.

Still, the unemployment rate rose to 9.4% from 8.9% in April. Economists expected unemployment would increase to 9.2%.

Strangely enough, economists said the rise in unemployment is partly a sign of an improved jobs outlook. That's because people who had stopped looking for work started looking once again, and thus were classified as unemployed rather than "not in the labor force" - which is how the Labor Department counts most discouraged workers.

"As conditions improve more people flock to the labor market," said Robert Brusca of FAO Economics. He believes the economy is poised to start adding jobs before the end of this year.

"Jobs are doing what they do at the end of recessions and in early recoveries," he said. "No one can be optimistic enough to catch the turn when it comes."

But other economists cautioned that even though it was a better-than-expected jobs report, there are still signs of weakness.

Kurt Karl, chief economist at Swiss Re, said he doesn't expect a monthly gain in jobs until at least the middle of 2010. With employers still cutting jobs and hours, he said consumers won't have enough money to spur an economic recovery in the near term.

"I think things are turning for the better. But it's a disappointingly slow turn," he said. "Consumers can't consume more with this kind of picture."

Karl pointed out that the loss of 345,000 jobs in a month was worse than any one-month drop in the previous three recessions. There have now been 6 million jobs lost since the start of 2008, with nearly half of them occurring in the first five months of this year.

"That 345,000, while an improvement, is still a lot of jobs," he said. "We're not out of the woods yet."

source : cnn.com