KAOHSIUNG COUNTY, Taiwan (CNN) -- A survivor from the typhoon that devastated Taiwan told how she and her grandson were surrounded by rising water in their mountain village.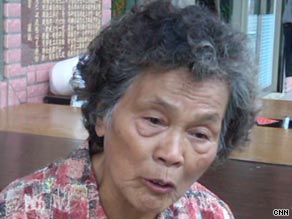 The pair lived in Shao Lin, a village in the south wiped out by Typhoon Morakot which swept over Taiwan last weekend.
Authorities said mudslides demolished more than 100 homes and killed a still unknown number of residents.
Chen Chiu Lian, 76 who lives with her teenage grandson, Wang Hsin Hong, told how the typhoon hit.
She said: "I had just finished eating. My grandson was taking a nap. It rained and rained. There was water to my left and to my right ... The next day, it was still raining.
"Our house was like a boat. The water was like an ocean. How can you escape? There was no way to escape.
"My grandson told me to swim. I was swimming and crawling through the water and debris."

The storm dumped up to two meters 10 cm (83 inches) of rain on some parts of the island, according to the U.S. National Oceanic and Atmospheric Administration.

By Thursday evening, the Taiwanese government had counted 115 deaths, 59 people missing and 45 injured. Most of the missing are from Kaohsiung County, according to the National Disaster Prevention and Protection Commission.

Chen's injuries are relatively minor. Her legs are covered in scratches and bruises from her escape.

"My grandson and I got to the roof of our house. He prayed to his grandfather (who died last year). He prayed out loud, 'Agong (Grandpa), please help us. We're going to be washed away in this flood.'

"My grandson was crying. He tried to comfort me and said a helicopter would come."

"Then we saw a helicopter and my grandson shouted to it. The helicopter lifted us up and the pilot said we were very lucky because originally, he didn't see us. He just saw the house."

The two survivors have now found refuge at a friend's home.

Chen added: "This is the worst disaster I've seen in my 76 years. My whole life has basically been smooth.

"At the time, I just thought, 'I'll leave it to the heavens.' If there hadn't been a helicopter, I wouldn't be sitting here today."

source : edition.cnn.com